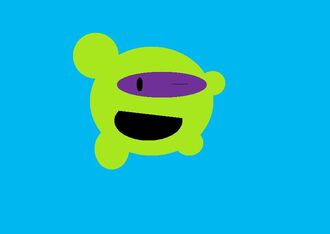 Bouball is a small live ball ( Ballman for short ) & is Callum's Mascot.
Biography
Edit
Ballmen are a special race of creatures that are small, flexible, and all have shades. But the most special Ballmen is Bouball. He is the savior of his world who is never too late to fight evil.
Favourites
Edit
Fishing, Sausages, & his God Callum.
Not so Favourites
Edit
Ghosts, Evil & Spiders
Personal life
Edit
He is very popular & easily makes friends. His best friends are Tomball, Gulliver Goo & his God Callum.
He has a Cousin called Blomp
He also is dating a girl called Ballette.
His mortal enemy is called Llabuob.
Message from Bouball
Edit
" Hi everyone reading this I'm Bouball & I wrote this message to say how thrilled I am to see A Battle of Blood. It sounds awesomely epic & I can't wait to see it."
Best Wishes,
Bouball :D