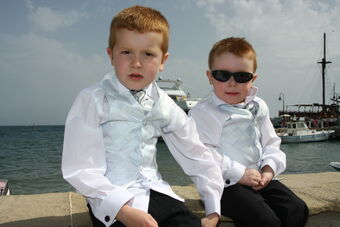 Callum Evans is an 11 year old boy who plays Adrian in the series.
Personality
Edit
Callum is an impressive cartoon designer and a skilled artist. However he has trouble controlling his emotions and can get a bit miffed at times. Other than that he is a very cheerful and kind boy. He is strong hearted and loves getting involved and tries to help even though he is not very good at doing it.
Favourites
Edit
Callum likes a lot of stuff like Skylanders, drawing, and making friends.
Not so Favourites
Edit
Callum dislikes loud noises, big rides and Brussel Sprouts.
Personal Life
Edit
Callum has a Mascot called Bouball