Skye Iris Renee Alcotte is an Azure Blood who was changed by Ace Fillmore in April 1903. Skye is trapped in her 14 year old body because she was changed at that age. Skye was born on 16th March 1889. She is 2nd in command of the Azure Bloods.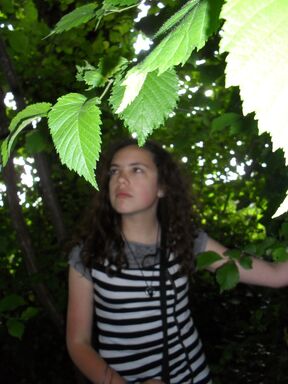 Relationships
Edit
Skye has an adopted brother called Nathan (who she changed into an Azure Blood in early 1905) and an adopted sister called Guinevere (who is a Crimson Blood). She is also distantly related to Scarlette Marshall.
Her boyfriend is Ace Fillmore (see Skye and Ace.)
Skye also has two children - Bethan and Joey.
However, Nathan was not the first person Skye changed. On 13th September 1904, Skye changed Valerie Silenna into an Azure Blood. On 28th August 1903, Skye came across Ace, who sensed an Azure-contaminated aura around her, causing him to change her into an Azure Blood. Skye's quick-witted and smart and her best friend is Valerie. She considers Tee to be her younger sister even though they're not related. She keeps an eye on her brother, Nathan, because she knows that he has a crush on Valerie.
Describing Skye
Edit
The actress who plays Skye in the series - Lilly Beards - wrote a rather long paragraph about Skye for the website (http://abattleofblood.webs.com).
"Skye is lost. She buts on a brave face, but she doesn't really know who exactly who SHE is. Is she 1900s girl Victoria Flynn, depressed? Or is she confident, clever Skye Alcotte, with a massive family and a shedload of red-eyed enemies? Skye doesn't know who she should be - becoming an Azure Blood improved her life, but it left her not knowing where exactly her life had gone...
And when Skye falls in love with Ace Fillmore, everything becomes even more tangled. She could tell Tee - get it all off her chest. But what if she never forgave Skye for falling in love with Ace - Tee's brother? Would telling Tee make everything worse?
In the middle of it all is Guinevere - cunning Crimson monster. She laughs at Skye from the outskirts of the battlefield. Guinevere watches Skye fight and makes every cut and bruise doubly painful with her power.
And then there's Skye's family - her real family. As Guinevere tries to pull Scarlette to the evil side and Nathan tries to get her on the good one, Skye can feel the pressure. The tension. The force beginning to pull her and her brother apart. Nathan's desperation, fighting against Skye's fear until the internal wounds are so deep that they can barely be stopped from becoming infected, let alone healing." - Lilly Beards